Standard Size - Steel
Interior dimensions: 24"W x 79"L
Exterior dimensions: 28"W x 83"L x 24"H
Fits in a Standard 30" Vault
Standard Size - Wooden
Interior dimensions: 23"W x 78"L
Exterior dimensions: 28"W x 82-1/2"L x 24"H
Fits in a Standard 30" Vault
Oversize 28 - Steel
Interior dimensions: 27-1/2"W x 79-1/2"L
Exterior dimensions: 28"W x 83"L x  24"H
Fits in a Standard 30" Vault
Oversize 31 - Steel
Interior dimensions: 30-1/2"W x 85.5"L
Exterior dimensions: 31"W x 87"L x 24"H
Does not fit in Standard 30" Vault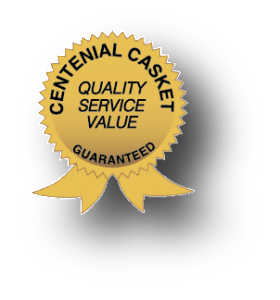 Centennial Casket offers a full line of premium caskets including 18 gauge, oversize, stainless steel, copper, solid oak and solid poplar.  By popular demand, we will soon be carrying a line of 20 gauge caskets.
We have built our new manufacturing facility from the ground up to offer and promote a new generation of casket whose quality is unlike and rivals the competition.
Our product is high end and has many of the features you expect in a premium domestic product.  This includes an interior waterproof lining, premium reinforced swing bar handles and hardware, a concealed locking mechanism with key, a memory tube,  an elegant full shirr velvet interior with matching pillow and a multi adjustable bed that provides full vertical lift, head incline and tilt.